A colonial tour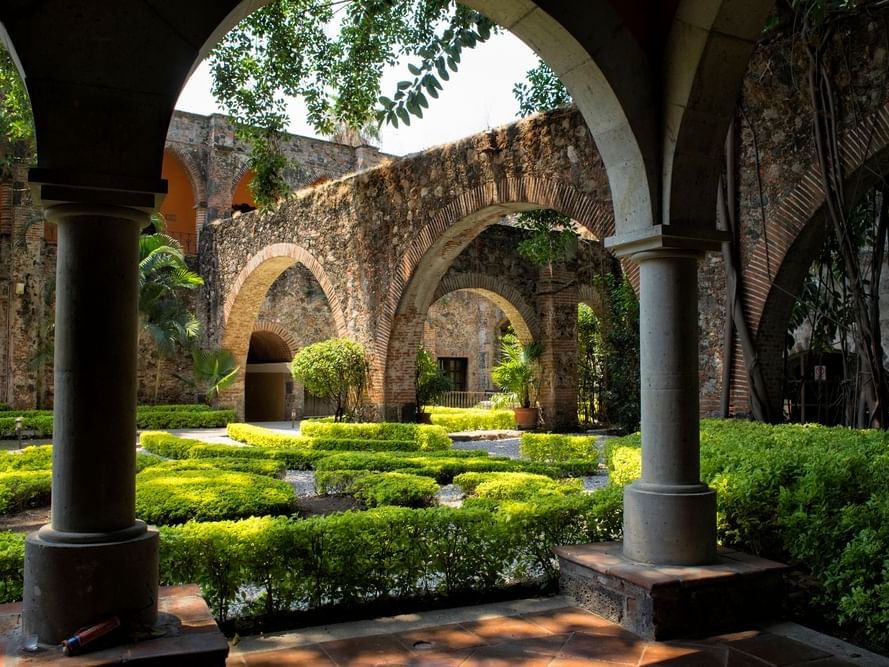 BY ANA LANCZYNER
Remember those movies where the main character somehow travels in time and ends up in medieval times where they have to adjust to not having all of the gadgets and modern accommodations of this day and age? If you ever wonder what that would feel like, we have two options that offer a very authentic insight on what the Mexican haciendas used to look and feel like back in the 1800's, but don't worry… you would not have to struggle at all, we will keep you more than comfortable throughout your stay. Fiesta Americana Hacienda Galindo Resort & Spa and Fiesta Americana Hacienda San Antonio are spaces where you can travel in time with all of the amenities that the present times have to offer and none of the discomfort imposed by those times. Both haciendas' exterior façades and spaces are perfectly preserved while all interiors have been carefully refurbished to become one of the best expressions of the luxury hacienda lifestyle Mexico has to offer. Located in Querétaro and Cuernavaca respectively, the magnificent grounds of these estates feature vineyards, private wine tasting rooms, perfectly manicured gardens, and stunning pools, SPA's, and event spaces. One could easily state that this is the best of both worlds; the regal past and the relaxing present.
Hacienda Galindo's unique legend is known to many because it is said that around the year 1524, the great conqueror of the Americas Hernan Cortes gifted this grand estate to the Malinche, a Nahua tribe Princess, to thank her for her willingness and persuasion efforts to help mediate the relationship between the Spaniards and the local indigenous tribes. Then, in more recent times, the Rule Cardenas brothers opened the hacienda as a museum and embellished it with the paintings and murals that can still be enjoyed in the grand hallways to this day. Currently, this hacienda is considered a cultural heritage site and is marked on many history buff's bucket list.
This property has more than just a few interesting features that can accommodate a group wanting to host a retreat or a large gathering. There is way more than just conventional meeting rooms in this hotel to host all kinds of corporate and social events. With an astonishing twelve state-of-the-art meeting rooms to choose from, multiple court yards, garden settings and even outdoor patios that can be transformed in outdoor meeting spaces, this hotel offers a great variety of options that are sure take your meetings and events to the next level. Alongside the 70 megabytes of free WiFi available around the property, there is also complimentary in-house audiovisual equipment available upon request.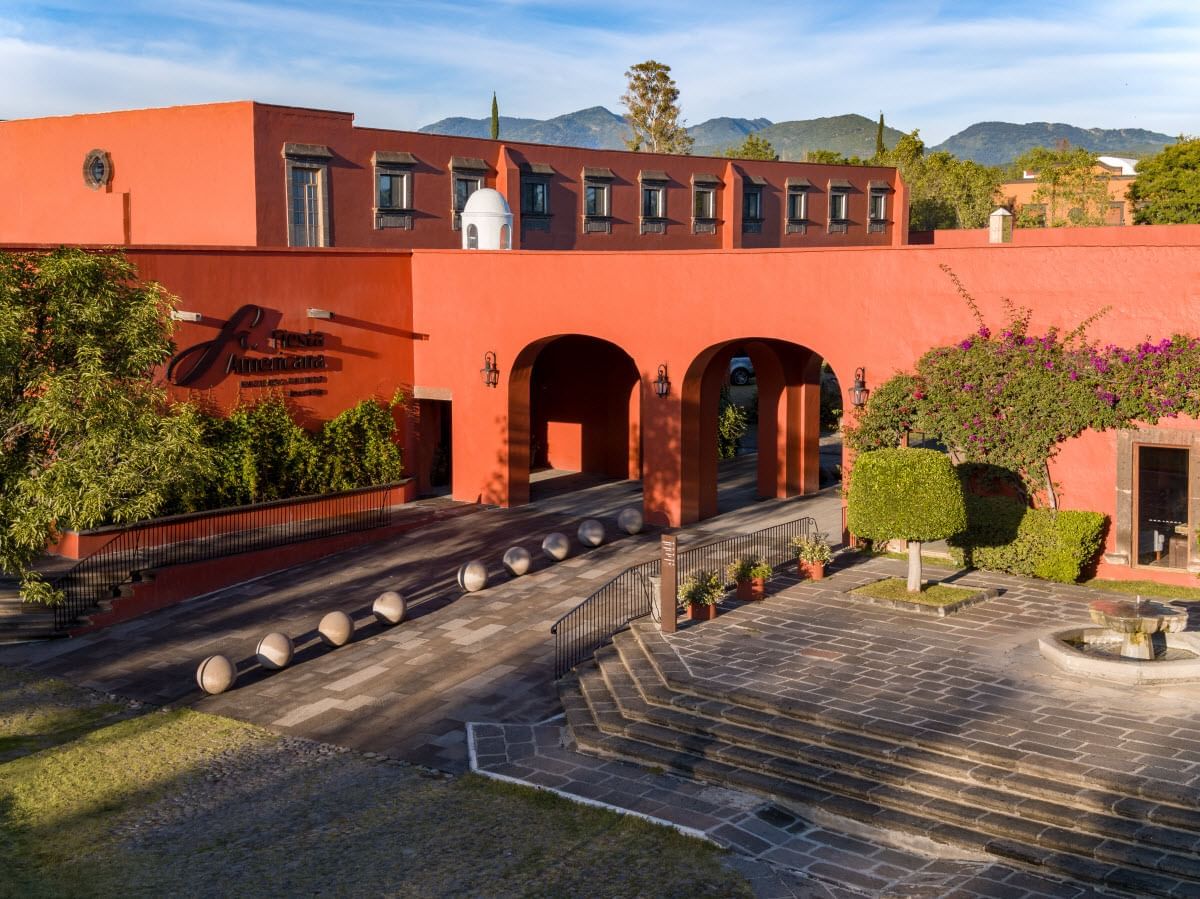 As if the play rooms, tennis courts, basketball courts and pool were not enough to keep you busy, this hacienda is in the vicinity of the San Gil Golf Club. Our concierge can arrange your transportation and everything you need to spend a fantastic day golfing at this exclusive Golf Club. If you are not a golfer, but enjoy the outdoors as much as golfers do, Fiesta Americana Hacienda Galindo Resort & Spa offers horseback riding experiences, fun bicycle trails you can explore on the house bikes, tennis lessons, guided meditations and even yoga lessons in selected Zen areas of the hacienda.
At our Fiesta Americana Hacienda Galindo Resort & Spa, the unique Misaya Spa is the only one in this area of the country that offers a proper Temazcal experience for guests. This sweat lodge ritual conducted by indigenous Chamanes has been described by some as a magical experience and it is known to heal the mind, body, and soul. Some say a Temazcal ritual cleanses a person of all evil and physical sickness. At Misaya Spa the ceremonies are led by certified temazcaleros that provide professional guidance during this mystical prehispanic cleanse.
Let's get real. You probably already saw the photo of vineyards inside this property, which means, you are certainly curious about the wine. The freshly installed vineyards were a project that came to life in 2019 when it was decided that creating an experience with wine would tie in the hacienda offerings and be very attractive for wine connoisseur visitors from around the world. The variety of grapes from which this estate creates wines were hand sourced from Spain. Production includes a buttery chardonnay, a crisp macabeo and a decadent syrah. To date the hacienda vineyards produce eight tons of wine which is equivalent to an estimate of 7,000 bottles of white, red and sparkling wine. Yes, the wine is spectacular but we can say that what truly makes it amazing is the setting where it is served. In this property you can create some of the most memorable experiences with sceneries that wouldn't be easy to recreate anywhere else. For instance, a private dinner in a wine cellar that exudes luxury and holds the history of ancient grapes within its walls. Another example is our exclusive courtyard lined with orange trees that capture a balanced ambiance of nature and architecture to a T. And if that is not enough to settle your wine cravings, our Misaya Spa has an exclusive wine therapy ritual which is sure to regenerate your soul with the exquisite nutrients of the local grape vines.
In the Fiesta Americana Haciendas everyone is welcome, the entire properties comply with accessibility guidelines.
Since we know that pets are an important part of the family, fur-babies are welcome to enjoy these beautiful grounds as well.
At times there are always moments when adult-time is much needed, especially while on vacation. This is why both haciendas have the very esteemed Fiesta Kids Club area. With special hacienda-style activities for the kiddos to enjoy, the different scenario will make them feel the joy of being in a historic area. As with all of the spaces in the haciendas, if they would rather do something a little more familiar like play a video game or watch TV, that and many more activities are available to the girls and boys. Our Fiesta Kids clubs are fun spaces where our young guests are supervised by adults at all times.
If you take a look at our Fiesta Americana Hacienda San Antonio El Puente in Cuernavaca, you will be able to appreciate a delicate rustic characteristic to this hotel property with its perfectly placed stones in century-old walls and aqueducts. This hacienda has an impeccable balance of lush vegetation that seeps into the architectural structures and then releases you into gardens and courtyards. There is a lot more than the evident areas that meet the eye.
One of the most exciting things that have happened in the past couple of years in this hacienda is that in 2017, a secret wine tasting room was discovered underneath the hacienda grounds. This underground special salon is now a venue where guests may enjoy celebrations such as romantic dinners or small gatherings of up to ten people.
In this area of the country there is a wealth of birds and butterflies that roam freely and organically decorate the picture-perfect gardens. Be sure to try some of the original mixology creations at the bar in the property or simply order an elegant mezcal to go with the scenery.
The rooms in this hacienda feel like they are fit for queens and kings with the plush beds and variety of pillows that are perfectly placed to decorate the bed. The deep red wood-work around the rooms are a masterpiece on their own right. These red-wood pieces grace the room with their sturdiness as the rest of the area decorations feel light and airy.
In-room dinning has a whole other meaning in this property; imagine breakfast at your rooms private balcony overlooking the trees in the hacienda grounds while enjoying a freshly squeezed fruit juice, traditional Mexican cuisine and upon request, Starbucks Coffee. The pool area is perfectly lined with an aqueduct and topped off with a light organic ceiling to keep the area cool and comfortable. There are jacuzzies and other poolside amenities that can be enjoyed year-round in the perfect Cuernavaca weather. If you want some quiet time to yourself, you can always visit the Hortensia Buenrostro Library located inside one of the main buildings of the property.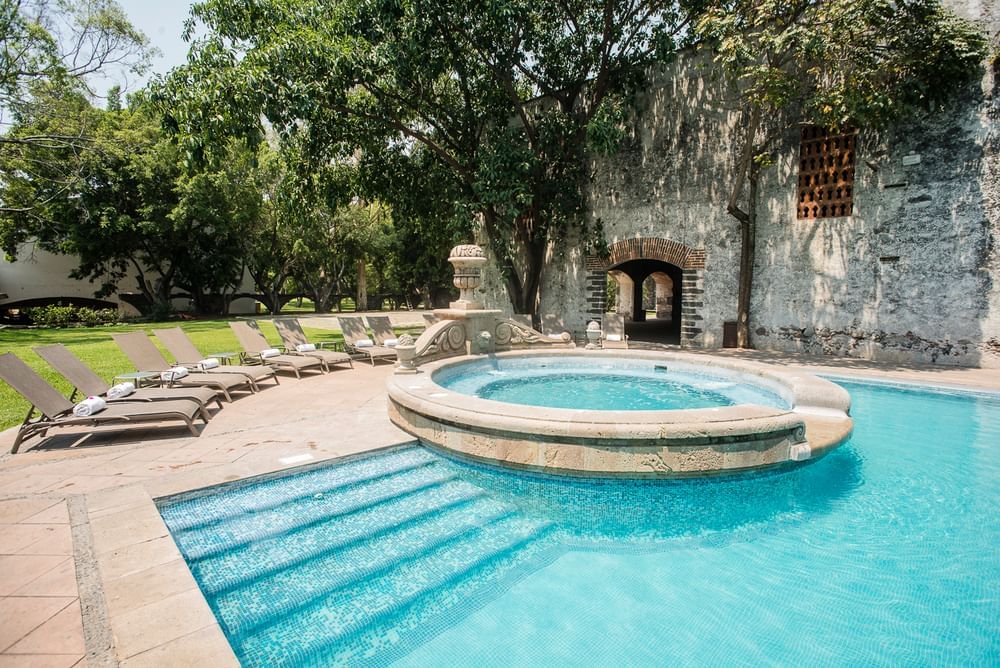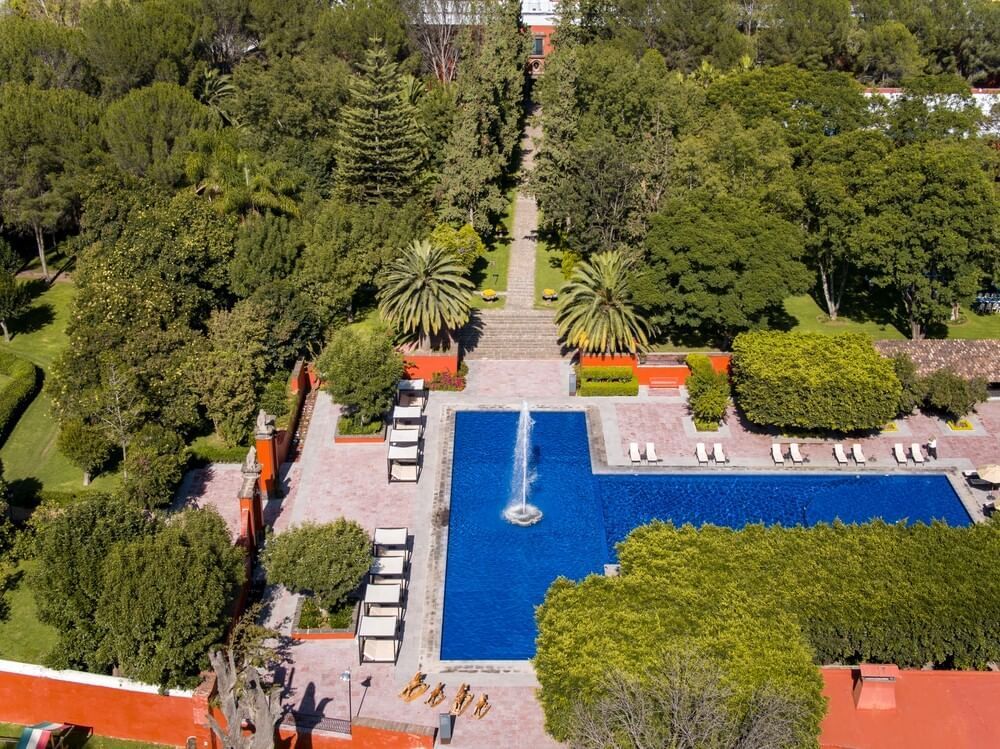 If you are on a quest to find a spacious location to host your next meeting or event, this hacienda has just the right places. With tall ceilings and refreshingly ample common areas, this is a great location to get your team out of the city and into a relaxed vibe that will help your activities run smoothly. Celebrations, weddings and anniversaries are also quite common here so be sure to wish the bride and groom good luck if you catch a glimpse of them before their big day!
This hacienda illuminates beautifully by night making it an exceptional scenario for romantic dinners, weddings or even just for a quiet stroll of the grounds. There are many activities for guests to enjoy after the sun sets; ask our concierge about the campfire style fogatas where you can enjoy smores and a lot more. Complete with a worth mentioning quarry stone fountain, this hacienda has some of the best photo opp areas that are sure to capture incredible memories of your time in Hacienda San Antonio El Puente Cuernavaca.