Fiesta Inn
Querétaro Centro Sur
Fiesta Inn Querétaro Centro Sur
Fiesta Inn continues to evolve, transform, and innovate its Business Class hotel concept. With a fresh, modern image and new facilities, Fiesta Inn Querétaro Centro Sur is the perfect example of business accommodations done right. Designed to encourage creativity and productivity, the hotel's spaces are functional yet friendly, allowing guests to be connected while remaining independent. Today's Fiesta Inn is more than simply a hotel; it is a community of professionals who thrive on success.
The hotel is located in the municipality of Querétaro, in the Centro Sur district, just 5 minutes from the Querétaro Congress, the Josefa Ortiz de Domínguez Auditorium, the Querétaro Corregidora Stadium, and the bus station, and 10 minutes from the city's most important industrial parks and shopping centers. The location is convenient to a variety of sites that will make your stay more enjoyable, restful and productive.
Please note that check-in begins at 3pm. Check-out must be completed by 12 pm. Express check-out is recommended.
Services
There are 134 guest rooms, restaurant, and a range of spacious and comfortable multi-use rooms for private work sessions, meetings and other group events. Other facilities include Lounge 360°, and fitness center. Hotel services include:
Handicapped access
Gym
Restaurant(s)
100% smoke free hotel
Guests access with guide dogs
Pets are not allowed
Business center
Free Wi-Fi access
Laundry service
Bar(s)
24 hours room service
Outdoor parking
Outdoor pool
Restaurant

La Isla
The Fiesta Inn Querétaro Centro Sur offers the La Isla multi-purpose space that gives you the freedom to recharge 24 hours a day. Guests can grab a delicious snack or pause to refresh and rejuvenate. Meals are available throughout the day in the manner best suited for the occasion, including a breakfast buffet, restaurant table service, grab-and-go, or room service. The area has minimalist design, with bright colors and fresh décor, making each visit as pleasant as possible. There are many healthy options, including fresh salads, pastas, sandwiches, fish and more.
Meeting Rooms

Event and meeting rooms
Guests can take advantage of B-on, Fiesta Inn's modern business workspace, outfitted with computers and business services. From here, you can keep in touch with the rest of the world, hold meetings in private boardrooms, participate in video conferences, and share documents and presentations online in real time at the center's 4 available meeting rooms.
There are also 6 special event rooms accommodating up to 180 people with auditorium seating. Each room offers a whiteboard, flip-chart and projector and offers coffee breaks and personal attention from the hotel's professional staff.
Qualified:
x
Fiesta Inn Queretaro Centro Sur
Location #10 of 94 hotels in Queretaro City
GreenLeader Platinum
Summary of qualifications
Best comments
"Nice hotel, average food"
I spend 3 days on a Workshop in this hotel. It has good location, nice design. Around are some good restaurants and good parking possibilities. Unfortunately the food is not so good. The soups were delicious but main course and desert week.
"Need to improve clean and food"
The shower was not clean the first day ( ex lot of hair from the last guest and the food was not cook like I ask for hamburger red . good location close to the center of QRO and its a new hotel that need to coach there personel to improve.
"Nice place great location"
This is located in the new area of Queretaro with a lot of offices and restaurants a short walk from the front door of the hotel. The soccer stadium and the bus station are also next the hotel. The facility is very new and clean and the service is freinds. I was able to get a corporate rate from the company I visited so it was a good deal too! Breakfast was a reasonable price and they had a nice selection of food.
"Perfect to Rest and sleep"
This Nice New Hotel hava a very good location if you go only for few days and like rest and work, this is the perfect hotel. Bed and pillows are ok , drinks on baar also acceptable , in general I will back to this Hotel.
"Bring Pesos Even If Your Travel Agency Is Paying"
I stayed here 2 years ago. Again, it's a new hotel and nice enough. However, there are a few problems: Most of the staff does not speak English My buffet breakfast was included but, the gratuity was not. They used to let you charge the gratuity to your bill but, no longer. So, I tried to get change and, the staff had no change so, I had to leave dollars Again, it's an OK hotel but, if I could, I would rather stay in the historic centre.
Top-rated Attractions Nearby
Photos hotel and surroundings (39)
Rooms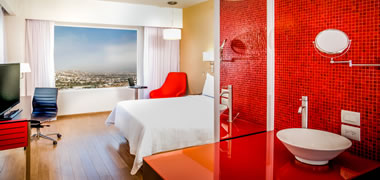 Superior Room, 1 King
Discover the perfect place to work and relax in this comfortable room, outfitted with a king bed, closet, bathroom, air conditioning, coffeemaker, executive work desk, telephone, wireless high-speed Internet, and cable TV with LCD screen.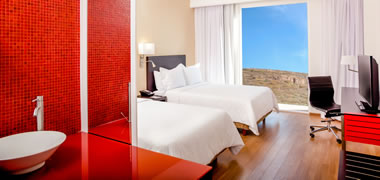 Superior Room, 2 Double
After a long day full of activities, find comfort in this relaxing room equipped with two double beds, closet, bathroom, air conditioning, coffeemaker, and cable TV with LCD screen. It has a private workspace where you can get things done without interruption, complete with an executive work desk, phone, and wireless high-speed Internet.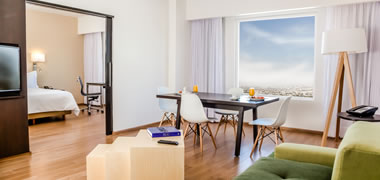 Junior Suite, 1 King
Whether you want to finish some last-minute work or simply get away from it all, the Junior Suite is the perfect choice. It is equipped with modern décor and excellent lighting, with a separate bedroom with king bed, plus closet, bathroom, air conditioning, coffeemaker, executive work desk, telephone, wireless high-speed Internet, and cable TV with LCD screen. It also has a full living and dining room, alarm clock, a sofa bed, and even a view of the city.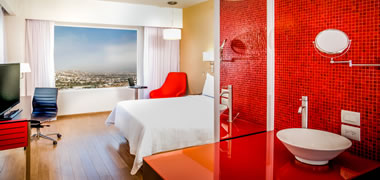 Accessible Room
Experience a comfortable stay in this specially equipped room with a single bed, closet, bathroom, air conditioning, coffeemaker, executive work desk, telephone, wireless high-speed Internet, and cable TV with an LCD screen. In addition, you will find all standard facilities for people with special needs. The bathroom is outfitted with safety rails, shower bars, elevated toilet with grab bars, and a wide entry door.