Fiesta Americana
Condesa Cancún All Inclusive
Qualified:
4.5 / 5 (8510 reviews)
Reviews
x
Fiesta Americana Condesa Cancun All Inclusive
Location #13 of 176 hotels in Cancun
GreenLeader Gold
Summary of qualifications
Best comments
"Would return"
A quick summary of our trip plus some tips and some annoyances. My husband and I stayed at the FACC for 3 nights (Dec 20-23, 2017). We had a premium ocean-front room (room 645) which had an awesome direct view of the pool and the ocean. We didn't really hang out on the balcony too much, but I do love waking up to that view or just sitting out there for a few minutes. He gets up much earlier than I do and said that the sunrise was incredible. All in all, we had a great time. The food was good for an all-inclusive. The drinks were good (never been a strawberry daiquiri drinker but this was the best drink we had there.. as well as the "mexican water" of course). The location was good, for us... outside of the loud hotel zone center and close enough to the airport / right on the beautiful beach. The hotel was relaxing and convenient. We would definitely return. Things I was wondering before going / Tips: - the weather in December is perfect...80-85 degrees. Yes, the water is a little cold, but once you get in you will get used to it. - The beach is amazing... gorgeous. I was wondering if it would be swimmable. There are flags out everyday to indicate the danger level (green/yellow/red/black). The entire time we were there it was on red (dangerous). People were still swimming, but it was rough. I went in for a couple of minutes but I am not a strong swimmer and was not very comfortable as I felt like I was easily getting pulled. We did see the lifeguard have to go pull 2 adults out as well. Just be very cautious. - Leaving the airport - I did read before going that people who look like they are wearing airport uniforms will try to stop you and sell you on things. We almost got hooked in. We had pre-arranged our shuttle with Best Day (very reasonable and easy), and these people kept telling us that they had to tell us which "gate" to go to for Best Day outside. This was all b.s...we ignored them and pressed on and right when we walked outside we saw the Best Day representatives in uniform next to the vans. So just ignore these people and keep walking! - We never transferred currency while there. We took small bills, 5's, 10's and 1's in USD, and used this for tips. $2-3 for breakfast, $5 for lunch, $10 for dinner....plus drinks, as they come or at the end of the day. - The power outlets there are no different than in the U.S. - no adapter or converter needed. - We did not drink the water..even to brush our teeth. I read that hotels have good filtering systems, but I just didn't want to risk it and they give you as much bottled water as you need and leave several in the room every day when they clean which is really nice.. we go through a lot of water. - Just something to consider if you are having kids or ever want to have kids, this is an area with a risk of Zika. We didn't really think about this in advance. Check out zika/mexico on the CDC website to know what all is involved. - The fish tacos at la cevicheria outside in front of the beach/by the pool are the best fish tacos I have ever had. Once we discovered them we had them every day for lunch. Don't make the mistake we did.... If you arrive in the afternoon, do not bother eating at the buffet inside. We thought this was the only place open for lunch. Walk outside, to the right of the pool and order some fish tacos instead. I am still thinking about them! - Activities - I usually plan activities in advance, but I did not and there was no need. Outside by the pool / next to the towel stand, there are representatives from AquaWorld. Our first afternoon there we signed up for 2 activities to do the following day - parasailing and "jungle tour" speed boat and snorkeling. While the "jungle tour" is nothing more than tight waterways with trees on both sides, it was fun. Parasailing was done from right there on the beach, and the other activities are at Aqua World which is just across the street / a 5 minute walk from the hotel. Very convenient and nice to not have to go elsewhere. - The chairs on the beach are open / first come first serve. - The "Bali" cabanas are for rent. They are awesome. If you have resort credit I think this is the best place to use them. They are 800 pesos (about $40) for the day or for 1200 pesos you also get ceviche, a bottle of wine and 15 min hand & foot reflexology massage for 2 ppl. You get the cabana from 9am to 6pm and you have a waiter the entire time bringing you drinks, food.. whatever. If I were to go back I would just use my resort credit on this almost every day. - The shows are "family-friendly" / really meant more for kids. We watched the end of the Michael Jackson show and saw the fire show. They are not Vegas, but nice that they offer something. Annoyances: - So many of the reviews talk about how great the service is. We didn't really have that impression. While all of the waiters were great, we didn't really feel like it was exceptional. Also, at check-in service was ok, but not great. Nothing was explained regarding restaurants, where things were, and they did not even mention my resort credit.. I had to go back and ask them to add it on our room. - Great that they give you a list of the restaurants but annoying that there is no map! We would have never found El Mexicano if someone hadn't showed us where it is. If you are staying for a while it's not a big deal.. you figure it out by day 2.. but we were only there 3 days so it was kind of annoying to be looking for things half the time. Same with the show.. not sure how we would have ever known where to go. - The resort credit is kind of a joke. As I mentioned, they didn't put it on my account until I went back and asked them to make sure it is added. They then informed me that it's not $50/night x 3 nights = $150 like I thought. It is $50 per day, period. If you don't use it that day, it's gone. And you can't use it on your last day. I was thinking we could use $150 towards the spa.. but no.. only $50 could go towards that one day. We only used 2 out of 3 days worth that we had available by the time we found out. I felt a little tricked on this. - I noticed there is no clock in the room...this was half nice and half annoying :) - The toilet has a frosted door and the rest of the bathroom (sink area) has no door.. so just be aware if you are travelling with someone you may not be super comfortable with. - For the steakhouse, you have to make a reservation in person in between 2 & 4 pm the day before you want to eat there. This is just silly. We walked by the first day and there was a long line waiting to make reservations. One lady in line told us they had eaten there before and she didn't know why they were making another reservation because it wasn't even that good. I can't imagine it's that special. - The spa. Using the credit, again, was just a pain. I had to take this paper to the front desk, put my credit card on file, and take it back to the spa so they could charge me and authorize the credit. Very weird and confusing. Just do yourself a favor - when you check in, make sure your credit is on the room and leave a credit card for extras. They won't ask you for it like most hotels usually do for incidentals, but if you want to do anything else on property you should just leave it or you will be taking these slips of paper up to the front. - Massages were pretty bad. I regret paying for them. Mine was neither relaxing or effective. It was just someone trying to apply firm pressure for an hour. I would definitely not do this again. Wish we had known some of this upfront, but we would definitely return. All in all, we were very happy with our stay.
"Paradise and Fish Tacos!"
Great service, great hotel, paradise! The employees make you feel like your at your home away from home! I would like to give a shout out to Oliver the bartender and Azahel the Chef! Also Edward at the bar Mexicano went above and beyond! Hands down top notch customer service! Would stay again anytime!
"Wonderful, but a few tweaks would make it amazing."
We stayed at the FACC for the New Year holiday to celebrate my 40th birthday, as well as my son's birthday. Overall it was a great stay but there are a few improvements they can make to ensure an even better stay. The following is a review of my visit. The service here is amazing! The staff is very friendly and super accommodating! They go out of their way to assist you. A special thanks to Claudio, Tony and Juan Jose (aka the magician) for their service! We had a few exceptions with a few people (2) who weren't as friendly, but overall the staff is terrific! We found the food to be above average compared to other all-inclusive resorts we have stayed at with several different locations offering a wide variety of options. The pizza grill was a favorite for us. We preferred the breakfast buffet down by the beach, which was a more intimate setting and better layout for us. At lunch time they had a 'pop-up' grill by the pool area. There was also a seafood restaurant and grill hut in addition to the buffet. They also have a fruit smoothie bar and healthy grill with tasty and healthy options. Plenty of bars by the pool and one down at the beach. For dinner they had Mexican, Asian, and Italian restaurants, as well as the buffet and a steakhouse, which needed reservations but you could only make them the day before. Room service had a decent selection and always came quicker then they said it would. There was also a sushi bar (although not very good) and a little area that served churros, ice cream and crepes. The grounds are very clean and well-maintained. This resort is on the smaller side, which we prefer. We don't care to stay at large, sprawling resorts where you have to walk a long way to get to anything or take a golf cart or trolley. We also enjoy seeing and getting to know the same staff that are serving us. We prefer to stay at intimate properties like this one. The pools have a nice layout, HOWEVER, the water is way too cold! We were very surprised that the pools were not heated and suggest they should be! There were three hot tubs. Two that were off the main pool and the only way you could get to them was to navigate through the cold pool water and more often than not the hot tubs were on the lukewarm side rather than hot and the jets weren't on, which was disappointing. There was another hot tub up by the infinity pool that was the warmest and often overcrowded. Poolside drink and food service was wonderful! I do suggest getting pool towels early in the morning and securing your lounge chairs as they get taken quickly. Poolside entertainment was decent but could have been a little more exciting and interactive. The energy/atmosphere here is very low-key. It's more of a relaxing resort than party resort. The lobby area and bar was on the quieter side and the arena for nightly entertainment was a bit boring - like a large empty conference room. We didn't see many of the nightly shows but we did see the circus, which we thought was great! The room we had was small, but very clean and housekeeping did a wonderful job daily keeping it clean. The shower was very spacious with a great waterfall shower head. Only major complaint was that the enclosed room with toilet was very small and lacking privacy. A few other things worth mentioning here for me are as follows: The gym is very small, but if you know what you are doing is sufficient for your stay. The spa was lovely and massage services were great. Although a day late, for my son's birthday they created Batman out of colored rice on the bed with balloons. It was absolutely amazing! As I mentioned earlier in my review, we were here for New Year's Eve. We paid extra for a lobster dinner on the beach, which was very good and we had the table for the entire night - BUT, it wasn't near the live entertainment and dance floor so it made no sense to stay at the table you had paid for. So that was a little disappointing. We were also disappointed that they didn't televise the ball drop and countdown LIVE from NYC. But the music was good, they had fun props and photo ops and there were fireworks at midnight, although I think they were put off by another hotel. I have a dairy allergy, which I notified the resort several months before our stay (before booking actually to help me select our hotel choice) to inquire if they would be able to offer me dairy-free alternatives specifically coconut/almond milk and they assured me it would be no problem. However, the was not the case when we got there. Eventually they were able to provide me with soy milk (which is not my preference nor was it the option I was told I would be given). One of the managers assured me that my allergy would be known at all the restaurants and soy milk would be given yet even after reminding some of our servers about my allergy, I had to send back a dish because it had butter or cream in it. Lastly, although this resort had a lot of good to offer and we truly had an enjoyable stay, we were somewhat left with a little sour note at the end - and here's why: Our flight back home ended up being cancelled due to a major snow storm. We would have loved to stay the extra few days here, but was told by the front desk that they had no availability. However, we were then informed by another employee that they did have some rooms available but when we inquired further on this we learned in order to secure one of those rooms we had to listen to an hour lecture and buy into a program and as a courtesy they would give us a room. So here's my deal with this - we didn't just say hey this is a great vacation and we want to stay a couple of days longer...we we forced to stay because our flight was cancelled due to a blizzard. We have a young child and needed a place to stay. If they legitimately didn't have any rooms, I get it, but to know they actually had a few rooms and couldn't help out a family with a kid who just spent about a week at their resort just because we wouldn't buy into a program of theirs...well that's just wrong. And then no one really offered to help us find another place to stay. We were pretty much on our own. (In all fairness, one staff member saw our predicament and after several hours gave us a map with a list of hotels on it to call, but that was it!) After several more hours, we ended up finding another hotel to stay at....The Gran Caribe Resort (recently renamed as Panama Jack - I will submit a review for this place too and what a fun this place is!!!!!!)
"The perfect mother and teenage daughter GETAWAY!"
My Kat and I needed some one-on-one time to bond and have some fun together and Fiesta Americana Condesa Cancun All Inclusive resort got us covered! Upon arrival, we were greeted by a handful of friendly staff and guided to the VIP lounge where we went over basic rules, our $50 resort credit and finally; our VIP wristbands! Good start! We absolutely loved our oceanfront room; located in the Sea Tower which is conveniently close to all the entertainment spots and restaurants. As for the room itself, it had a clean and modern feel to it and our spacious balcony had an enchanting view of both the ocean and the pool. Chilled champagne and fresh fruits with a letter from the general Manager Pilar Tapia left as a welcoming gift! The food was legit! We were really surprised by the quality and the variety of the food! But hey, we were in Mehico so we were super excited to try the flavors of Mexican food like fresh-made tortillas, quesadillas and tacos! And believe me, we did just that! And a lot of it!! La Cevecheria was one of our top favorites! The shrimp tacos, ceviche, and breaded fish are without a doubt to die for! Trust me, you don't want to miss out on the Grill daily BBQ @12 PM that range from shrimp, chicken, steak, and veggies! El Mexicano and its authentic dishes for the win! Their traditional Mexican coffee with spices and orange peel made in clay pot and the Conchas were the real treat, stuff you definitely shouldn't miss! We also visited San Telmo where we were indulged in a juicy grilled octopus, a tangy shrimp salad, and a tasty steak! The sashimi in the Sushi Bar was very good! The tender crepe stuffed with Nutella and nuts are my Kat addiction and the Jamaica gelato was mine! If my Kat had to pick a favorite out of the restaurants it would definitely be Kalmia, which was a great - big buffet with a new variety of fresh darn outstanding food every day! She also was a frequent room service caller and highly recommends their chicken strips! She really can tell the difference between microwaved chicken strips and freshly cooked ones and she thinks these were definitely fresh! When it is time for a dip, the resort has an amazing sandy beach and breath-taking pools! We were there for the Atlantic Ocean so we didn't bother with the pool area. I would really highlight the towel service, the lifeguards and the crew members at the beach who offer you drinks and bring them straight to you! This resort also offers a handy activity sheet with details on things to do each day! Our favorite was the lesson that teaches you how to make a cup and a cocktail out of an entire fresh pineapple! Over our stay, we also visited the magic show. Unfortunately, the theatre reeked of a moldy/wet smell so we did NOT hang around until the end of the show. One of my daughters' favorite spots was the spa! She got a moisturizing facial treatment that she described as the most relaxing experience ever! She also got a manicure and a pedicure; talk about pampering! The only ugly experience was an issue regarding our $50 resort credit with Berenice at the VIP lounge who was very unprofessional and rude so asked her for Pilar but we accepted her supervisor Edgar apology and he sure made it right! I would say be prepared, the resort will give you hard time using your $50 credit. Our room was cleaned spotless twice every single day and a new batch of toiletries and fresh towels were given to us. Almost every night, a crew member came to our door with tasty delights as "courtesy", her favorite was the plate of chocolate with a raspberry on top and coconut shavings on the bottom! Overall, the staff worked very hard to give us the most memorable stay and their goal was accomplished.
"Clean, updated and fun all inclusive"
The Fiesta Americana Condesa was a great resort, recently update, the rooms were well done and clean. The resort itself had a lot to offer and the food was good! And all of the staff was friendly, enthusiastic and helpful. Highly recommend this resort.
Top-rated Attractions Nearby
Photos hotel and surroundings (8165)
Miiluma Spa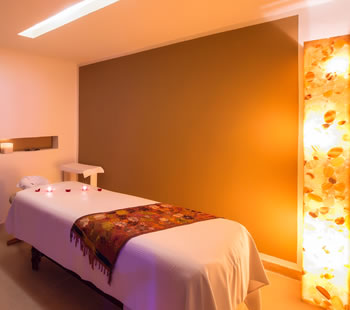 Pamper yourself with personalized attention and indulgent spa treatments at our luxurious Miiluma Spa. You'll experience the latest in natural spa treatments incorporating Mexican products, relax and rejuvenate in the steam room or Jacuzzi, go for a swim in the immersion pool, or work up a sweat in our unique gym featuring the latest-generation equipment on the open-air terrace. Cleanse and renew your body and mind with juice therapy, herbal teas and low-calorie spa menus.Miiluma Spa is open daily from 6:30 am to 10:00 pm.