Restaurant

El Mexicano
This restaurant makes all of the flavor and color of a traditional Mexican kitchen a delight, over an atmosphere full of color and pleasure, in true Mexican style. The signature flavors feature ingredients from across the country. Accompanying your food, a reflection of our rich Mexican culture, comes a variety of wines, and of course, excellent tequila.

Rosato
In this exclusive corner of the hotel, you'll enjoy a sophisticated atmosphere, subtle, and undemanding, created solely to delight the palate with Mediterranean dishes with an Italian accent. This restaurant is a concept of gourmet cooking whose essence is Italian flavor, but with the intent to submerge you in full pleasure, and to display marvelous international creations. Bring your senses to a new level of total satisfaction, and taste excellent wine while experimenting with a combination of smell, taste, and color in our restaurant.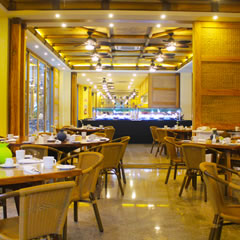 Chulavista
The colors and the aromas that escape our breakfast buffet are a pleasure full of sensations that will prepare you for your daily activities. Try the Mexican or international cooking options from this restaurant and let us pamper you with the warmth of our service.

The Grill
The Grill ultra-casual restaurant near the hotel pool helps make sure you never miss a moment of the outdoor action. It offers a varied and delicious menu that includes hamburgers, hot dogs, chicken strips and other favorites.

Tapas bar & lobby lounge
This space is adorned in Mexican style, and gives a pleasant nighttime sensation with a scenery of beautifully illuminated pillars. All of this with exquisite tapas very much in our chef¿s style, regional and imported drinks, cocktails, and the joy of live music, will give you a pleasing flavor from your evening party until whatever the night brings in this spot that will truly make you think about paradise.

La Cevicheria
An inspiring and magical place that combines culinary pleasure with the ocean itself. Enjoy this space that offers a relaxed ambiance, perfect for tasting delicious fish and seafood specialties and ice-cold beers. Kick back and admire the exceptional view of the city of Puerto Vallarta and the beach.

L'Isola
To provide a sophisticated experience and captivate the most demanding palates , L'isola restaurant seduces you with scents and flavors of their delicious lobster and fine cuts, accompany these delights with the best wine of the house. This restaurant, located on the pool's island, is a place of tradition and ancestry where gourmets find the ideal place to share an elegant dinner.

Tiantang Asian Restaurant
There are flavors, scents and colors that take us to the other side of the world. Discover them in Tiantang, where the mystery of Asian cuisine will be revealed to delight your palate with exquisite creations as the moments you can share in the pleasant atmosphere of this space.

Fajitas House
By late afternoon , nothing better to accompany the delicious flavors of fajitas while enjoying that unique moment when sun rays pass through the palm trees. Enjoy a stunning view of the bay and welcome the night immersed in an excellent environment that give a fascinating touch to your dinner.
Lounge

Bikini Swim-up Bar
You don't even have to leave the pool to get a refreshing drink. This exotic bar has bar-stools in the pool and palm trees soaring above and is surrounded by beautiful tropical flowers, there is nothing like enjoying the personalized attention and warmth of the. Warm and friendly service is also provided from this bar to the chairs along the pool deck. It's sure to create an unforgettable afternoon of fun.

Deli Express Coffee Shop
From morning to night, you will find the perfect place to have coffee or tea , enjoy yourself with delicious desserts, enjoy an appetizing baguettes and panini or enjoy a healthy salad . Whatever you feel is there to please.

Terrace Bar
Enjoy your favorite drink in an informal setting with ambient music. The perfect place to spend a pleasant time and listen to good music. It will be a pleasure to serve you from 10 am to 10 pm.