Restaurant
Kambú
The whole family will enjoy dining at this restaurant offering a diverse menu of international favorites for breakfast, lunch and dinner. Situated next to the pool, in a typical Mayan open-air palapa overlooking the Caribbean shore.
Cuisine: International menu for lunch
Dress code: Casual (for dinner)
Smoking area: Yes
Open daily from 5:00 p.m. to 10:30 p.m.

Kalmia
Enjoy the view and the food at the Kalmia Restaurant, with it's large windows offering panoramic views of the Caribbean.
Food: International / Regional cuisine
Open from 6:30 am to 11:00 p.m.
Dress Code: Casual
Capacity: 250 people

El Mexicano
With contemporary design and a menu of traditional Mexican cuisine, El Mexicano is an elegant choice featuring spectacular décor, glass cases filled with popular regional art, blown glass, and traditional talavera pottery.
Cuisine: Mexican dishes, wine list & extensive variety of tequilas
Open daily for dinner from 5:00 pm to 10:30 pm
Dress code: Casual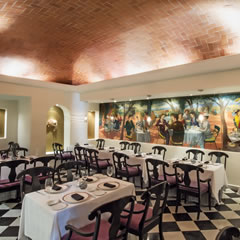 Rosato
El Rosato Italian restaurant offers a gastronomic proposal from south-Italy such as pizzas, pastas, salads and more than 70 gourmet dishes to delight your taste. It's like stepping into Europe for a mini vacation, except the Caribbean is just steps away!
Cuisine: Italian
Open from 5:00 pm to 10:30 p.m.
Dress Code: Casual Elegant; collared shirt, dress (long) pants and closed-shoes. No sleeveless shirts for men, no flip-flops, no sportswear nor sandals. 
Restaurant will only accept children from 5 to 12 years from 5:00 p.m. 7:00 pm.
There is no access for baby-strollers. The restaurant features high chairs for babies.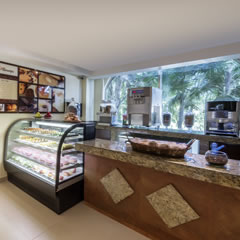 Deli & Gift Shop
A conversation with friends, a break from work, a moment to yourself, or even a good book... all good reasons to treat yourself to a delicious pastry and a cup of aromatic coffee or tea. Here you will also find a wide variety of items and handmade crafts to take home as a personal souvenir or as a special gift for family or friends. Our Business Center also has everything you need to work away from home.

Pizzeria
Under the shade of lush trees at the pool's edge, you will find the perfect place to enjoy our delicious Italian cuisine. Indulge your palate with traditional pizzas, made using original recipes and hand-picked ingredients and cooked in a wood-fired oven. Add a delicious taste of Italy to your afternoon. Open from 12pm to 4pm.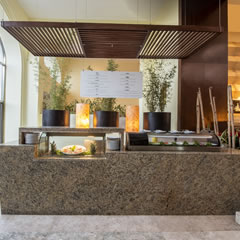 Sushi Corner
After a day on the beach or by the pool, take a trip to Asia without leaving Cancun. Here you will find more than 15 sushi and nigiri dishes, all made to order. Simplicity and indulgence come together to create the perfect atmosphere for a fun evening or late night-meal. Open from 5pm to 1am.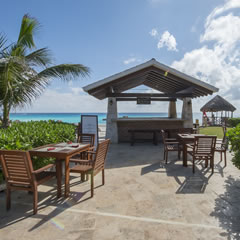 The Grill
An outdoor dining area with a breathtaking view of the Caribbean makes for a memorable lunchtime experience. Feel the ocean breeze, hear the sounds of the calm waves washing over the shore, and experience the aromas emanating from the kitchen. Here you can enjoy authentic American grill cuisine with a wide variety of hamburgers, hot dogs and wraps. Open from 12pm to 3pm.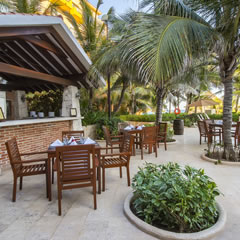 Trattoria
Spice up your night in paradise with a visit to an authentic trattoria-style restaurant. Choose from our select menu offering a wide variety of pastas, salads, bruschetta and panini. No matter what you choose, you are in for a night that neither you nor your taste buds will forget. Open from 6pm to 10pm.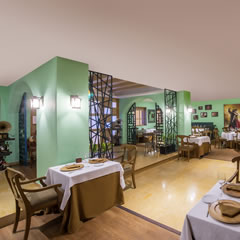 San Telmo
Let the flavors of our exclusive Argentinean steakhouse transport you to one of Buenos Aires' most historic and charming neighborhoods. Treat yourself to a cut of Angus beef cooked to perfection, or savor a delicious lobster tail instead. Add a salad to one of these dishes and accompany your meal with an order from our menu of select wines, all while spending an evening in our inviting, elegant restaurant where every moment is truly delightful. Reservations required. Open from 5pm to 11pm.
Lounge

Cevichería
Situated in an open-air palapa set among the swimming pools and the Caribbean, guests can enjoy delicious snacks, hot salsas and draft beer surrounded by the rhythms of salsa and merengue music. Open daily from midday until late.
Open daily from 12:00 p.m. to 5:30 p.m.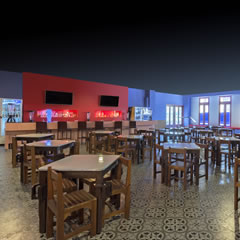 Cantina
Come experience this traditional Mexican cantina with an inviting, magical ambiance that is sure to make it a favorite meeting place for you and your friends or family. Try one of over 15 authentic Mexican appetizers and quench your thirst with a wide variety of Cancun craft beers. As an added touch, the classic jukebox lets you play your favorite tunes for you and other patrons to enjoy.